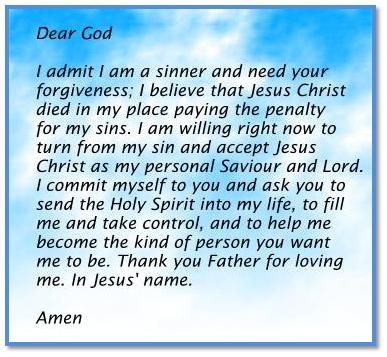 Sin came into the world when Adam and Eve ate the forbidden fruit in the garden. That single event caused a separation between God and the human race because God is perfect and cannot be around sin. God could have left us separated and on our own to fend for ourselves but He loved us too much to do that. God had a plan and He sent his Son Jesus into the world To do what we could not do for ourselves. Make things right between us and God. Jesus lived a perfect life, died a horrific death on the cross(for you and me) and then 3 days later he was raised from the dead therefore defeating death and giving us victory over our sin so that we could be reconciled to our creator God.
Jesus is the bridge that connects us to eternity with God. We can now walk over that bridge that towers over the dark abyss of sin that we were destined for if it had not been for Jesus. We can now freely approach God because our sins are forgiven(past, present and future) and the blood of Christ washes us clean. Thank you God for loving us this much.
Are you ready to walk across that bridge and live forever with God?
Ask Jesus to save you, just do these 3 things:
1.Admit that you are a sinner and turn away from your sin. (See John 8:11)
2.Believe and have faith that when Jesus died on the cross, He took the punishment for all your sin and He rose to life again to conquer death(See John 1:29)
3 Receive and ask Jesus to be your lord and savior. (See John 1:12)

Here is a simple prayer you can use to receive Jesus Christ as your Savior. The exact wording doesn't matter, what matters is the attitude of your heart:

Lord Jesus, I've tried to do things my own way and now I
thank you for showing me how much I need you. Thank you for dying on the cross for me. Please forgive all my sins and failures. Please make me clean and help me start fresh with you. I now receive you into my life as my Lord and savior. Help me to love and serve You with all my heart. Amen

Congratulations! You are a new person. Your new life begins today. You are forgiven!

I encourage you to get to know Jesus. Talk to Him, Pray to Him. His spirit now lives inside you. Pretty Amazing, I know. The creator of the universe lives inside of you! Your attitude will soon change. Sinful things you did in the past will become offensive to you because your body is cleansed and you are a new creature. 

What should I read first? I encourage you to start with the Book of John which is one of the 4 gospels in the New Testament. I believe that the entire Bible is God breathed. My faith is in the lord and I am only a messenger using the gifts that God gave me to serve others. I now encourage you to do the same. Be a blessing to others. Use your gifts. True joy comes from giving!

If you are wondering what gifts you posses, read "Purpose Driven Life" by Rick Warren. This book opened my eyes to what the meaning of life is, and answered the question "Why Am I Here". It truly changed my life .

Thank you for taking these very important steps today! Prayers and love, God bless,           

                                                                                                                                                                                                          jay